November 2 – December 8, 2019
Featuring works by Victor Ali, Natalie Baxter, Jessica Caldas, Deja Echols, Hector Rene Membreno-Canales, Mark Menjivar, Jason Reed, Ricder Ricardo, Corrina Sephora,
Darryl DeAngelo Terrell, and Paul Weiner
Curated by Arlette Hernandez
Exhibition and Events at ATHICA
Opening Reception: Saturday, November 2, 2019, 6:00-9:00 PM
Curator Talk with Arlette Hernandez: Sunday, November 3, 4:00-5:00 PM
Visiting Artist Engagement with Mark Menjivar:

Thursday, November 14, 2019, 6:00-7:00 PM:  A conversation with visiting artist Mark Menjivar, Assistant Professor in the School of Art and Design at Texas State University, and Marni Shindelman, Associate Professor and Area Chair for Photography at the UGA Lamar Dodd School of Art. The two will compare notes on social practice, the border, and their respective approaches to both.
Friday, November 15, 2019, 12:30 PM: Activation/Performance/Talk by visiting artist Mark Menjivar, related to the exhibited work "DLP." This ongoing project examines the full contents of convicted murderer David Lee Powell's cell at the time of his execution in 2010, which ended his 32-years on death row.

Experimental Music with Kathryn Koopman: Saturday, December 7, 7:00 PM
The Founding Fathers, Manifest destiny, westward expansion, the cowboy: such concepts and personas are deeply embedded in the American psyche, bound up with the gunpowder and bullets that made them possible. Today the differing value systems that surround gun culture are pitting cherished notions of individual freedom and the second amendment against equally cherished notions of safety and de-escalation. Society is adapting to mass violence with procedures and security measures, creating a culture of defense and preparation that stops short of a systemic solution driven by government action. In this time of polarization and impasse, art can provide avenues for reflection that transcend language. In this spirit, ATHICA offers the exhibition Losing Control: Guns, Government, and Group-Think, which references some of the fragments and illusions of our national self-image, behavior, and policy.
Curator Arlette Hernandez states, "Anywhere you go, the same conversation is being had: this country has a gun problem and we need to start reckoning with that reality. This exhibition tries to do some of that reckoning by exploring the broader culture of violence that guns have produced, and all the while asking us to look at the ways it touches our lives, leaving none of us unmarked."
The eleven artists whose work is in the exhibition come from different areas of the country and have different backgrounds and sensibilities. Two sculptors, Corrina Sephora (Atlanta, Georgia) and Natalie Baxter (Brooklyn, New York), address the materiality of guns with opposite materials—metal and fabric—while sharing a biting and whimsical point of view. The photographer Hector Rene Membreno-Canales (Andover, Massachusetts) stages tableaux in the style of Netherlandish vanitas paintings, in which still-life-like settings frame the weapons of war, as well as in the style of Michelangelo's Pietà, in which a marine cradles his dying comrade in his lap. Jason Reed (New Braunfels, Texas) uses appropriated photographs from the U.S. Customs and Border Protection official archives to reflect on the bureaucracy and the individuals within it, while Paul Weiner (Denver, Colorado) uses the appropriated materials of the shooting range to create a sense of the depersonalization and repetition of shooting-inspired shooters. Mark Menjivar (San Antonio, Texas) and Darryl DeAngelo Terrell (Detroit, Michigan) both work with social engagement, language, and the legacies of violence; Menjivar through the catalogued effects of an executed cop-killer, and Terrell through the words of those left behind. Jessica Caldas is also involved in advocacy and social practice. Her installation of four pieces confronts relationships between people and community stories within the context of larger social issues, the silence around such stories caused by stigma, and the ways that stigma perpetuates violence and othering. Three Jacksonville, Florida area artists work in mixed media and figuration. Victor Ali's portraits address themes of group-think and governmental oppression, while Deja Echols uses graphite and spray paint to reflect on the impact of gun violence in the black community, and Ricder Ricardo paints in acrylic on vinyl to explore the different demographics across America affected by gun violence and the increasing loss of safe spaces.
Losing Control: Guns, Government, and Group-Think is sponsored in part by The James E. and Betty J. Huffer Foundation, The Georgia Council for the Arts, and The National Endowment for the Arts.
About the Curator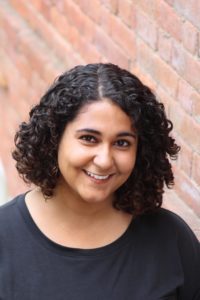 Arlette Hernandez is a recent graduate and emerging museum professional. For the past year, she has worked on exhibitions at local museums and art galleries in Northeast Florida. Hernandez is currently the Emily K. Rafferty intern in museum administration at the Metropolitan Museum of Art in New York.
More information: http://arlettehernandez.com
About the Visiting Artist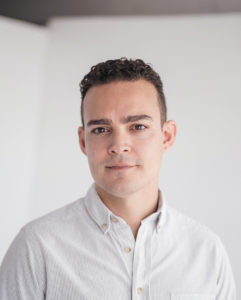 Mark Menjivar is a San Antonio-based artist and Assistant Professor in the School of Art and Design at Texas State University. His work explores diverse subjects through photography, archives, oral history and objects. He holds a BA in Social Work from Baylor University and an MFA in Social Practice from Portland State University. Menjivar has engaged in projects at venues including the Rothko Chapel, the Bemis Center for Contemporary Art, The Houston Center for Photography, The San Antonio Museum of Art, The Puerto Rican Museum of Art and Culture, Blue Star Contemporary Art Museum, and the Krannert Art Museum. Mark's work has been featured by Artforum, TED, NPR, The New York Times, The New Yorker, The Village Voice, Gastronomica, National Geographic, Orion Magazine, GUP Magazine, and more.
More information: https://www.markmenjivar.com
About Marni Shindelman
Marni Shindelman is Associate Professor in Photography and Area Chair for Photography at the University of Georgia (UGA) Lamar Dodd School of Art. She received her MFA from the University of Florida and a Bachelor of Philosophy in Interdisciplinary Studies from Miami University (Oxford, OH).  Prior to UGA,  she taught ten years at the University of Rochester.
Her work has been in exhibitions at Crystal Bridges Museum, a solo exhibition at Blue Sky in Portland, United Photo Industries in Brooklyn, the Contemporary Arts Center Las Vegas. Light Factory in Charlotte, the FotoFestiwal in Poland, the Houston Center for Photography, Baltimore Museum of Art, the Moscow International Biennale in Russia,and Conflux Festival in NYC.  She has been a resident at the Robert Rauschenberg Foundation and Light Work in Syracuse, NY.
Her collaborative projects have been featured in Wired Magazine, GUP Magazine, The Picture Show from NPR, The Dish, PetaPixel, Fast Company, Gizmodo, Hyperallergic, the New York Times, Hotshoe Magazine, the Washington Post, Utne Reader, Flavorwire, Frieze Magazine, the British Journal of Photography, the BBC News Viewfinder, and on the radio program Marketplace Tech Report.
More information: http://www.larson-shindelman.com
---
Download Press Release for Losing Control: Guns, Government, and Group-Think:
ATHICA_PressRelease_LosingControl_November2019_Updated (10.2 MB)
Exhibition Catalog: Losing_Control_Catalogue_Spread (8MB)
Press: "ATHICA Explores Guns, Government, and Group Think", Art Notes, Alden DiCamillo, Flagpole Magazine, October 30, 2019.
Exhibition Images: