2023 Members' Showcase
Things We Love: Artists' Book Night 2023
Are you an artist and do you have an original book (or something like a book)? In honor of the the things we love, ATHICA is sponsoring an
Artists' Book Night on March 1, 2023 from 7-9 PM.
Refreshments, conversation, and original artists' books: what could be more fun? Sign up to have a spot at a table to share (and sell if you are set-up to do so) your original artist book. Any and all formats welcome. Hardback, paperback, zine, comic, photos, drawings, paintings, collage, flipbook, unique or multiple copies. Text is welcome. It's YOUR CALL about what constitutes an artist's book. All are welcome to participate.  Registration is open until all spots are filled. Register here:
https://forms.gle/6uRcaDAAS4MRaWjX6
Call for Solo-Duo-Trio Exhibition Series
ATHICA's exhibition series Solo-Duo-Trio expands opportunities for individual artists to exhibit their work at ATHICA and its satellite location, ATHICA@Ciné.  Artists working in any media with a cohesive body of work are invited to apply. Challenging, progressive, and innovative work is welcome. Work will be reviewed for selection by the ATHICA Exhibitions Committee. Annual deadline: June 30 for the following calendar year. For complete details about application process and rolling deadlines for application, see: https://athica.org/updates/solo-duo-trio-call
Artist-in-ATHICA Residencies 2023-24
Residencies take place throughout the year (generally in the periods January-May, June-August, and September-December), provide administrative support, exhibition and performance facilities, and a small stipend. Artists may work in any or multiple disciplines and traditions, including but not limited to visual, curatorial, musical, performing, written, experimental, cinematic, digital, and theatrical arts. The work undertaken in the residency can be in a familiar or new discipline. Residents can work independently, collaborate with others, and/or work as a team. Annual deadline: June 30 for the following calendar year. For complete details about application process and rolling deadlines for application, see: https://forms.gle/c4xVQ1VFbZnGwBKi8
Call for Internships
Apply Now for 2022-23 Internships (Development * Social Media * Music * Poetry * Photography * Gallery * Education)  June-August 2022, September-December 2022, January-May 2023. Minimum of five hours a week. Great experience and creative work environment. College credit available in coordination with department of study. Rolling deadline. More information: https://athica.org/updates/internships/
---
General Submission Policy

ATHICA issues a general call periodically for proposals from curators, collectives & artists with challenging, progressive or innovative projects and cohesive bodies of work.  Entry fees go to support the operations of the ATHICA gallery.  In addition to 2-D and 3-D works, ATHICA embraces large-scale sculpture and/or installation, media works, performance, and more.
Proposals are reviewed by the exhibitions committee for possible consideration in the programming for the coming years.  Artists' submissions may be retained for a number of years until an appropriate project arises.  We make every effort to provide a response to every submission to specific and general calls.  If you have a question or concern, please contact us via email to info@athica.org, as we are unable to return phone calls in response to inquiries.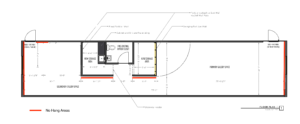 Annotated Floor Plan
Click to View Enlarged
Right Click to Download
Save
Save
Save
Save
Save
Save
Save
Save
Save
Save
Save
Save
Save
Save
Save
Save
Save
Save
Save