Saturday, January 21st, 2012-Wednesday, April 4th, 2012
Curator: Judith McWillie | Assistant Curator: Lauren Williamson
Our 44th exhibition, Southern, features many never-before-seen works which explore the emotional depth and aesthetic diversity of nine artists – spanning four generations – who are interrelated in their "radical contemporaneity."

Through photography, video, and sculpture, they present an aesthetically rich installation that questions boundaries between art and religion, aesthetic and documentary practice, and folk and fine art. Each artist was carefully selected by curator Judtih McWillie with the assistance of Lauren Williamson.
Participating Artists:
Stanley Bermudez (Athens, GA), Drék Davis (Bernice, LA), Hope Hilton (Winterville, GA), Ted Kuhn (Athens, GA), Michael Lachowski (Athens, GA), Judy Rushin (Tallahassee, FL),Sam Seawright (New York, NY) & John Seawright (Athens, GA), Steven Thompson (Brooklyn, NY), James Perry Walker and the family of Washington Harris of the Saint Paul Spiritual Holy Temple (Memphis, TN)
Sam Seawright will exhibit five superbly composed photographs of his brother, John Seawright's studio. John was a much-beloved Athens' writer who died unexpectedly from an aneurysm in 2001. John's poems, as well as his Ghost Fry column, featured for five years in the local weekly Flagpole Magazine, captured the hearts of the Athens community while exposing previously suppressed and unknown histories. Now, ten years later, we are delighted that Sam Seawright, a renowned New York City based painter, has chosen ATHICA to debut these intimate images. (See left column for info in affiliated event, The Universe of John Seawright, which will include readings of the poems.)
James Perry Walker brings us a series of never-before-seen documentary photographs of the interiors and grounds of the St. Paul Spiritual Holy Temple in Memphis, TN. Known locally as an urban legend called 'voodoo village,' it is now threatened with decay. The Temple was created by Washington "Doc" Harris, an African Native American from central Mississippi, and his extended family in the tradition of New Orleans spiritual churches from the 1920's. For over fifty years the Harris family maintained the site and created over 1,500 works of sacred art that Washington Harris called "The Degrees of God."
Until this exhibit, no one outside the Harris family, the curator and Walker have been permitted to observe these phenomenal and unique scared objects and environments. Walker's photographs will be displayed within a room specially constructed for ATHICA by local designer/craftsman Jay Nackashi
The exhibition will also include the debut of new works by the following local artists:
A set of photographs by artist Michael Lachowski have been selected by curator Judith McWillie. Lachowski is also well known as an award-winning graphic designer, publisher ofYoung Foxy and Free Magazine and the Pylon bassist. Lachowski photographs iconic objects and architecture in Georgia towns that are brilliantly "fluoresced" through his extraordinary eye for color and composition.
Ted Kuhn performs Keep Hope Alive, his original multimedia work addressing the relationship between the Hope Scholarship and the Georgia Lottery.
Drék Davis addresses image and identity in popular culture. He is a native Athenian, a conceptual artist and freelance journalist currently living in Bernice LA. He presents floor paintings and wall assemblages that integrate visual histories of Africa and the American South using a 'cut and paste aesthetic.' Many remember Davis as an opinion columnist forThe Athens Banner Herald, where he published for many years. He also curated the ATHICA 2005 exhibit Race (enter personal politics).
Hope Hilton is an internationally exhibited conceptual artist; she relocated from New York to Winterville, Georgia in the summer of 2010. She has exhibited and performed at ATHICA three times and we welcome her return. She will be installing a new work made for this exhibit, a reconstruction of Harriet Powers famed Bible Quilt, made of vellum and various paper scraps. Harriett Powers, a former slave from Athens, created two picture quilts in 1886 and 1898, now in the collection of the Smithsonian American Museum and the Boston Museum of Fine Arts.
Stanley Bermudez's painting Heritage? will also be exhibited. Please see:
YouTube interview     Inside Higher Ed article   The Chronicle of Higher Education
Because of its references to lynching and the Ku Klux Klan, the painting was removed from a faculty exhibit at Gainesville College by its president in January 2011. US print media covered the controversy extensively. Artifacts from the media's response to the censorship scandal will be displayed along with the painting.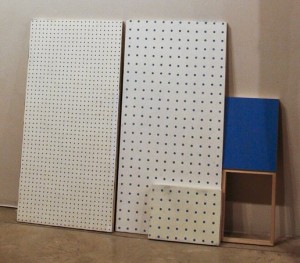 Judy Rushin of Tallahassee, FL will be exhibiting several large-scale conceptual objects which explore relationships between people and spatial environments using colors and materials that reflect on the evolution of the minimalist southern aesthetic in subtle ways. Her work has been exhibited across the US and in Korea, including Aqua Art Miami, Art and Literature Laboratory in Cambridge, MA, Prospect 1-Satellite at Trumpet in New Orleans, Mass MoCA, and Soho20 New York. She is the recipient of numerous grants and her work has been featured twice in New American Paintings.
Steven Thompson, a native South Carolinian now living in Brooklyn, NY, will create a site-specific work in the rafters of ATHICA's main gallery. Thompson has shown extensively, including a recent exhibition at English Kills in Brooklyn, NY. His work has been featured in Miami-Basel, The Armory International Exhibition, and the SCOPE Art Show.
Participating Artists
Stanley Bermudez (Athens, GA), Drék Davis (Bernice, LA), Hope Hilton (Winterville, GA), Ted Kuhn (Athens, GA), Michael Lachowski (Athens, GA), Judy Rushin (Tallahassee, FL),Sam Seawright (New
York, NY) & John Seawright (Athens, GA), Steven Thompson (Brooklyn,
NY), James Perry Walker and the family of Washington Harris of the
Saint Paul Spiritual Holy Temple (Memphis, TN)