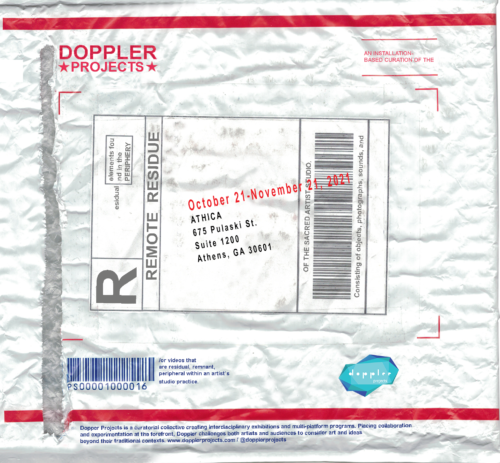 October 21 – November 21, 2021
A Multi-Media Installation
Presented by Doppler Projects
Derek Faust and Lauren Peterson
Exhibition and Events at ATHICA, Free and Open to All

Exhibition Dates: Thursday, October 21 – Sunday, November 21, 2021
Streaming Curators Talk: Saturday, November 6, 2021, 5:00-6:00 PM.  Watch Recording | Passcode: h5ME%n=N
Socially-Distanced Reception: Saturday, November 6, 2021, 6:00-8:00 PM
ATHICA Family Day: Saturday, November 13, 2021, 1:00-3:00 PM. Families of all kinds and ages are invited to drop-in to explore the exhibit and conduct a hands-on investigation of different artist's "studios."
Third Thursday Music Night: Thursday, November 18, 7:00 PM. Streaming; featuring Exchains with musicians George Davidson, Joe Rowe, and Jay Nackashi. Free tickets required. Get here.
Artists inhabit worlds of their own invention, both physical and imaginary. An artist's studio is not only the place where their artwork comes to life, but also where their inspirations and ideas are provoked and incubated. Every artist's studio is unique and personal to their practice and their processes. The materials of their artwork mingle with images, objects, and artifacts, helping to conjure their unique vision. Sawdust, paint, and crushed charcoal can be tracked across the floor by their boots or paint-covered sneakers. Mature work can be placed alongside the experimental. Packaging, labels, and correspondence convey the travels that artwork can take through the world. All of these items weave together in the artist's story.
Is it possible to uncover what goes on inside the mind of an artist or predict what their art might be through the examination of studio evidence? On display in ATHICA's Leathers' Building location beginning October 21, 2021, Remote Residue by Doppler Projects helps answer such questions through a multi-media installation of art studio ephemera from around the world.
Participating artists contributed materials through physical and digital mail to Derek Faust and Lauren Peterson, members of Doppler Projects, a curatorial collective that creates interdisciplinary exhibitions and multi-platform programs. Placing collaboration and experimentation at the forefront, Doppler challenges both artists and audiences to consider art and ideas beyond their traditional contexts.
Remote Residue consists of objects, photographs, sounds, and videos that are residual, remnant, or peripheral within an artist's studio practice. The curators provided the artists with prepaid shipping envelopes and a collection kit to return their individual "residues." They encouraged the recipients to "use one, all, or none of the tools provided as we've intended or in your own way." The kit included air dry clay for making impressions; a chip brush, paper dust pan, and plastic bag for collecting sweepings; a crayon and hanshi paper for capturing surface rubbings; a pinhole camera and film for documenting a space or object; and tape and wax paper for lifting smudges, fingerprints, or footprints.
These observational snippets are installed in Remote Residue alongside curatorial artifacts including contact lists and communication records, receipts, and rejections. The curators used mail art strategies in conjunction with their own structural systems and arrangement to form a cohesive multi-media installation. Through the solicitation for and collection of artist's contributions, Remote Residue explores the nature of a distanced studio visit, realizes mundane connections between an artist's space and their practice, and negotiates imperfection as it relates to the gesture of curation.
Faust and Peterson discuss their process for the exhibition, stating: "We were interested in elements subtly and quietly significant, the clippings, scraps, tools, notes, coffee mug rings, dust, waste, and the spaces artists navigate. Identifying and highlighting these surrounding elements was a way for us to democratize curation with the potential to realize human and mundane connections between artists. The diverse accumulation of studio residues contained within Remote Residue became, for us, representative of the collective act of making, a vast sprawling network of interconnected ideation, intervention, and creation. Simultaneously exhilarating and completely banal."
The invited artists represent a wide variety of career levels and geographic locations.
Curtis Ames – Northridge CA
Avantika Bawa – Portland, OR
Natalie Baxter – Chattanooga, TN
Andrew Boatright – Atlanta, GA
Jackie Brown – Bath, ME
Karl Burkheimer – Portland, OR
Jessica Caldas – High Springs, FL
Amelia Carley  – Brooklyn, NY
Maeve D'Arcy – Jackson Heights NY
Louise Deroualle – Snowmass Village, CO
Henry Detweiler – Berlin, Germany
Celina Eceiza – Buenos Aires, Argentina
Kim Garcia – Los Angeles, CA
Meta Gary – Decatur GA
Candice Greathouse – Northridge, CA
Kristy Hughes – Bloomington, IN
Maria Hupfield – Toronto, ON Canada
Andrew Jackson – Tokyo, Japan
Charles Kendrick Fowler – Columbus, GA
Lard Eian Alexander Kouri – Atlanta, GA
Michelle Laxalt – Atlanta, GA
Marta Lee – Brooklyn, NY
April Danielle Lewis – Baltimore, MD
Fei Li – Brooklyn, NY
Sizhu Li – New York, NY
Andrew Lyman – Dunwoody, GA
Brenda Mallory – Portland, OR
Jackson Markovic – Atlanta, GA
Amalya Megerman – Teaneck, NJ
Ana Meza – Atlanta, GA
Jenene Nagy – Riverside, CA
Yoonmi Nam – Lawrence, KS
Yanique Norman – Stonecrest, GA
Liz Nurenberg – Los Angeles, CA
Loretta Park – Jamaica Plain, MA
Claire Paul – Atlanta, GA
Kellie Romany – Chicago, IL
Raúl Romero – Philadelphia, PA
Judd Schiffman – Providence, RI
Heidi Schwegler – Yucca Valley, CA
Emma Senft – Madison, WI
Yesuk Seo – Providence, RI
Winnie Sidharta – Woodside, NY
Skyler Simpson – Madison, WI
Joshua West Smith – Inland Empire, CA
Kaleena Stasiak – Valdosta, GA
Jordan Stubbs – Atlanta, GA
Leah Tacha – Brooklyn, NY
K.tauches – Atlanta, GA
Malaika Temba – Brooklyn, NY
Frankie Toan – Denver, CO
Travis Townsend – Lexington, KY
Letha Wilson – Craryville, NY
Remote Residue is sponsored in part by The James E. and Betty J. Huffer Foundation and the Georgia Council for the Arts through the appropriations of the Georgia General Assembly. Georgia Council for the Arts also receives support from its partner agency – the National Endowment for the Arts. Additional support for Family Day and Music Night has been provided by a Get Artistic Grant from Creature Comforts Brewing Company.
---
More About Doppler Projects
Doppler Projects began in Portland, Oregon as the brick and mortar gallery Doppler PDX. Curated by Derek Faust and Stephanie Marinone, their mission was to promote dialog around art work and installations that were created from experimental processes. From 2009-2011, they encouraged artists to tread outside their comfort zones and create site specific work. Since that time, Doppler Projects has now evolved into a roving curatorial collective, including Lauren Peterson. They have created multiple exhibitions in the Atlanta area featuring artists well-known to art followers in the Athens-Atlanta region. Remote Residue is their first project for ATHICA.
Website: www.dopplerprojects.com
More About Derek Faust

Derek Faust is an interdisciplinary visual artist, educator and curatorial collaborator based in Athens, Georgia. His work explores the symbiotic relationships between humans and objects, places and time.  Derek's work puts particular emphasis on broken and lost narratives derived from fragments of natural and manufactured matter. Derek has exhibited work at the Low Museum (GA), Mint Gallery (GA), Aqua Art Miami (FL), ATHICA (GA), Museum of Contemporary Art (GA), Solcumb Gallery (TN) and the Herberger Institute for Design and Arts (AZ). He has attended residencies at the Hambidge Center for Arts and Sciences (GA) and Hears Arts (GA). Derek was Co-Founder and Curator for the brick and mortar project space Doppler PDX (OR) which has now evolved into the roving curatorial collective Doppler Projects (ANYWHERE).
Website: www.derek-faust.com
More About Lauren Peterson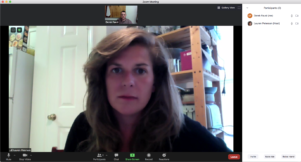 Lauren Peterson is an intradisciplinary artist, educator, and curatorial collaborator with Doppler Projects. Her practice focuses on the potential ontological ramifications of a consumption-based society. Peterson was named a 2019/20 Aspen Art Museum Fellow and 2017/18 Emerging Artist and Project Grant recipient from the City of Atlanta. Past exhibitions include Off the Wall at Spartanburg Art Museum (SC), Message from the Sea at the GAIA Center in Athens, Greece, and Forget Me Not at Zuckerman Museum (GA). Peterson has been an artist in residence at Vermont Studio Center (VT), 77Art (VT), and Hambidge Center for Arts and Sciences (GA). Her work is part of the permanent collection of the High Museum of Art (GA) and Goya Contemporary (MD).
Website: www.laurenmichellepeterson.com 
Press Release
https://mailchi.mp/f6810261a6bb/press-release-remote-residue-by-doppler-projects