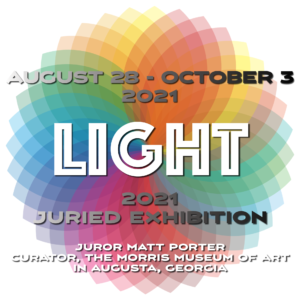 LIGHT: 2021 Juried Exhibition
Exhibition and Events at ATHICA, Free and Open to All
Exhibition Dates: August 28, 2021 – October 3, 2021
Wed-Fri: 4:00 pm – 6:00 pm
Sat: 1:00 pm – 6:00 pm
Sun: 4:00 pm – 6:00 pm
Third Thursday, September 16, 4:00 PM – 9:00 PM
Socially-Distanced Opening Reception: Saturday, August 28, 2021, 6:00 PM-9:00 PM.
Streaming Juror and Artist Roundtable: Wednesday, September 22, 2021. 7:00 PM. Register: https://us02web.zoom.us/meeting/register

Juror Portfolio Review Sessions:  Saturday, October 2, 2021, 10:00 AM – 5:00 PM.  Register: https://form.jotform.com/212554844076156

Juror Matt Porter
Curator, the Morris Museum of Art
in Augusta, Georgia
Featuring contemporary art in all media that explores or references LIGHT, which is found all around us, around our planet, and throughout art, nature, literature, science, society, and language as a concept and a construct with many different connotations. Without light there is no color and art would not exist. Work was juried by guest juror Matt Porter, Curator at the Morris Museum of Art in Augusta, Georgia.
Artists In the Exhibition
Allie Jackson, Loganville, GA
Anna Richards, Macon, GA
Candice Greathouse, Los Angeles, CA
Claire Clements, Athens, GA
Diane Speight, Winder, GA
Didi Dunphy, Athens, GA (Winner, Donald Keyes Founder's Award)
Grant Evans, Winterville, GA
Joseph Leone, Athens, GA
Henry McEachern, New York, NY (Winner, Future Show Award)
Laura Noel, Atlanta, GA
LucyJulia Hale, Cave Springs, GA
Mac Balentine, Athens, GA (Winner, Audience Choice Award)
Marty Winkler, Athens, GA
Rachel Evans, Winterville, GA
Paula Reynaldi, Athens, GA
Raoul Pacheco, North Augusta, SC
Ray Lee, Athens, GA
Sarah Glass, Bishop, GA
About the Juror
Born in Oshawa, Ontario and raised in Suburban Detroit, Matt Porter received a BFA in Illustration from the College for Creative Studies, Detroit, Michigan and he attended the
Fairmont State University for Graduate Studies in Art Education. Porter's creative career has led him to work at the Cranbrook Art Museum, Fallingwater, a Frank Llyod Wright home, and the
Morris Museum of Art. While at the Morris Museum of Art, he has successfully organized programs with artists such as Alec Soth, Lonnie Holley, and Eleanor Davis for the Museum's Art
Now series. He also develops and coordinates public programs intended to connect new audiences and promote diversity, integrity, and quality within the Museum.
Press Release:  https://mailchi.mp/75514b79d5fa/now-on-view-early-fall-exhibitions