Friday, September 30th, 2011-Sunday, November 6th, 2011
6 artists from the ATHICA Mystery Triennial
Curator: YOU the People & The ATHICA Board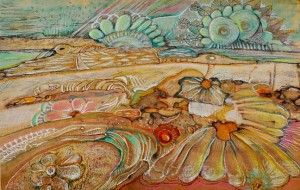 This exhibit showcases recent artworks and site-specific installations by six local artists who were selected from the 124 artists who generously donated artworks to the ATHICA Mystery Triennial.
 (Thank you to designer Jay Nackashi!)
Rebecca Brantley was selected by People's Choice ballots cast throughout
the ATHICA Mystery Triennial exhibition.
Our other five artists were selected by the ATHICA Mystery Triennial
Exhibition Committee, ATHICA Board Members with two exceptions.
Artworks from the ATHICA Mystery Triennial  by five of the Selections artists  were kept for this exhibit, and are being displayed alongside their other works, often in exactly the same place they were hung before, or very close by.
Thank you to the collectors who loaned us these works.
Participating Artists
People's Choice Winner:
Board Choice Winners: