July 7 – August 8, 2021

TRIO:  Austen Brown, Kate Burke, and Xiaopue Pu
Third Thursday July 15, 2021: Extended hours 4:00- 9:00 PM.
ATHICA is delighted to announce the summer exhibition TRIO featuring the work of Austen Brown, Kate Burke, and Xiaopue Pu, three artists who were selected through ATHICA's  Solo Duo Trio open call for entries, which expands opportunities for individual artists to exhibit their work at ATHICA and its satellite location, ATHICA@Ciné.  Juried by the ATHICA Exhibitions Committee with additional curation by Exhibition Committee Chair and ATHICA Board President Jon Vogt, this spare and elegant exhibition brings together the work of three artists from Atlanta, Chicago, and Beijing. According to Vogt, "This trio of artists use different approaches to convey a common theme of space, isolation, hidden messages, and bleakness. As we return to post-pandemic life, these works are haunting like the memories of the past year."
Chicago-based artist Austen Brown's works are detached and architectural in their point of view. The artist uses photography and the process of image making to probe notions of networks, architecture, and public space. His aluminum panels are embossed with redevelopment plans made by the International Congress of Modern Architecture and the United States Housing Authority, investigating the influence of European Modernism on American urban planning and the lasting impact of idealized forms onto contemporary space. Using a common building material found in hardware stores, rolled aluminum, of which one side is gold and the other silver, these plans are copied, traced, and pressed into the back of custom-made aluminum panels. The panels leave us with the outline of the buildings, amplifying the emptiness between and around them.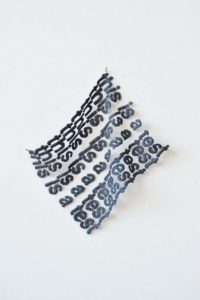 Atlanta-based artist Kate Burke's works explore the hidden, and perhaps ceremonial, acts of sinister thought. Her use of thread and tulle to capture language within the delicate needle craft of embroidery creates striking contrasts which conceal, hide, and distort.  The inherent and ceremonial implications of a veil are hemmed into these works, highlighting the disguised dark and distorted nature of what can lie beneath saccharine sweetness.
Beijing-based artist Xiaopue Pue's photographic works explore the connection between humans' physicality and mentality
and their relationship to nature. Her figures are placed in nature, observed from a distance, alone and faceless, glowing. We ask ourselves questions about these people seeking connection to nature in urban parks. We see something familiar and something strange.
More about Austen Brown
Austen Brown (b. 1985) is an artist living in Chicago, IL holding his Masters of Fine Arts from the School at the Art Institute of Chicago, where he is faculty in the Sound Department. Using a site-based practice, he works with sound, video, and installation to unpack the social, cultural, and economic complexities that are present in urban planning and architecture. Using buildings as evidence to understand the ways in which ideologies are cast into form, he focuses on the projected ideals of city plans and urban design, and their continued impact on contemporary space, often making work in response to their fallout or poor judgement.
His work has been shown internationally at Triumph Gallery, Chicago, IL; The Chicago Artists Coalition, Chicago, IL; The SUB-Mission, Chicago, IL; Super-Sensor, Madrid, Spain; EXPO Chicago, IL; ACRE, Chicago, IL; Switched on Garden with funding from the Pew Charitable Trust, Philadelphia, PA; Flat Gallery, Chicago, IL; LODGE, Chicago, IL; Delaware Center for the Contemporary Arts, Wilmington, DE; Rebekah Templeton Contemporary Art, Philadelphia, PA.
Residencies and awards include funding from the Illinois Arts Council, ACRE, HATCH Projects, the Municipal Arts League Fellowship, Siragusa Foundation Fellowship, and the New Artist Society Scholarship (SAIC).
Website: www.austenbrown.net
Instagram: @austen__brown
More about Kate Burke
Kate Burke (b. 1994) is an Atlanta-based mixed-media and textile artist. Kate graduated with honors from the University of Georgia, receiving her BFA in Fabric Design in 2016. While in school, she received the Mary Rosenblatt Art Scholarship and recently received the ArtFields 2019 Category Award for Textiles. Kate has shown at the Lyndon House Art Center, ATHICA, Sulfur Studios, the Lamar Dodd School of Art, Hartsfield Jackson International, whitespec, as well as other galleries and art centers throughout the southeast. Kate recently returned from a residency at the Hambidge Center, with thanks to the Hambidge Center Fulton County Scholarship.
Website: www.kateburkestudio.com
Instagram: @kateburkestudio
More about Xiaopue Pu
Born in Beijing, China, Xiaoyue Pu received her BA in psychology with certificates in photography and art history at the University of Wisconsin-Madison, US. Her photographic works explore the connection between human's physicality and mentality, and their relations to nature. Pu's works have been exhibited internationally in/on galleries, magazines, and websites in China, America, and Germany.
Website: https://www.vogue.it/en/photovogue/portfolio/?id=177318
Instagram: @xiaoyuepu_photography
TRIO is sponsored in part by The James E. and Betty J. Huffer Foundation, The Georgia Council for the Arts, and The National Endowment for the Arts.
Press Release: https://mailchi.mp/97dc76267f60/press-release-announcing-summer-exhibitions-at-athica-galleries
Installation Views