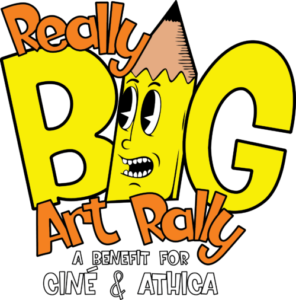 Ciné and ATHICA Joint Fundraising Event
Saturday, March 25, 2023, 10am-3:00pm
Location: Ciné, 234 W Hancock Ave., Athens, GA 30601
See Art-Making In Action
Connect with Local Artists
Buy Finished Works @ $60
Ciné and ATHICA are joining forces to host this REALLY BIG fundraising event in which dozens of artists produce works in front of a live audience, which are then immediately donated and made available for sale to the attendees. A unique mix of live performance, art sale, and art party, the Really BIG Art Rally gives all involved the chance to see art-making in action; connect with local artists; mingle with friends; and buy the finished works at the low price of $60 each as they are created and posted on the buy wall. Confirmed participating artists include Michael Lachowski, Amanda Burk, Erin McIntosh, Susan Nees, Rusty Wallace, Jill Carnes, Greg Benson, Don Chambers, Rebecca Wood, Paul Thomas, and more.
The event will feature MC Didi Dunphy of the Lyndon House Arts Center, local favorite DJ Mahogany to provide musical inspiration, and guest celebrity "artist" Athens' Mayor Kelly Girtz! Special drinks and snacks will be available for purchase. Advance tickets are on sale now for $10.00. Tickets will also be available at the door on the day of the event; kids get in free. Vintage cartoons will play in one of the Ciné theatres throughout the event as alternative fun for kids.
Buy Tickets Now: https://www.athenscine.com/movie/really-big-art-rally/
Attendees will be able to buy original art works produced by local artists during hour-long art-making rounds. The schedule starts at 10:00, with three rounds of art-making and ongoing sales (10-11am; 11:15am-12:15pm; and 12:30– 1:30pm) with a final half-price sale starting at 1:30pm. Multiple buyers vying for the same piece will draw the high-card from the deck to win the right to purchase.
Really BIG Art Rally Participating Artists and Schedule

Round One: 10:00-11:00
Susie Burch, Lisa Freeman, Maggie Davis, Jim StipeMaas, Amanda Burk, Donna McCavitt, Jill Andrea Carnes, David Mack, Helen Kuykendall, Paul Thomas, Jared Brown, Nancy Everett, Vivian Liddell, LeeAnn Peppers, Eileen Wallace, Jaime Bull
Round Two: 11:15 – 12:15
Ruth Allen, Krista Lark Slater, Rusty Wallace, Erin McIntosh, Susie Criswell, James Mellor, Alice Stone-Collins, Greg Benson, Susan Nees, Marisa Leilani Mustard, Frances Byrd, Cameron Bliss, Daniel Jordan, Valley StipeMaas, Krysia Ara and Celebrity Guest Artist Mayor Kelly Girtz!
Round Three: 12:30-1:30
Mona Behl, Don Chambers, James Barsness, See Dan Paint (Dan Smith), Elizabeth Cucurullo, Michael Lachowski, Kathryn Refi, Jon Swindler, Kristen Ashley MacCarthy, Paula Reynaldi, Elizabeth Mettler, William Kissane, Rebecca Wood, Dana Jones, Kristan Lee Ryan, Samual Stabler, Rich Panico (Donation only), Mandy Mastrovita (Donation only)
Final Half-Price Sale: 1:30 until sold-out or 3:00, whichever comes first
---
Thank You to Our Sponsors

Matching Funds Partner ($10,000)

The James E. and Betty J. Huffer Foundation
---
Gargantuan ($1000)
Todd Emily Community Fund
---
Behemoth ($500)
---
Goliath ($250)
| | | The McKenna/Archibald Fund |
| --- | --- | --- |
| | Judith Ellis | |
---
Proceeds from the event provide direct support for both Ciné and ATHICA programs.
All artists that are interested in participating are invited to complete the artist confirmation form.  Once maximum capacity is reached, interested artists will be added to a waiting list.
Invitation to Artists / Sign-Up:  https://forms.gle/AnDEqRqVCZKdRu8x7

Athens businesses and individuals are invited to sponsor this important and lively fundraising event that supports two essential non-profit centers of creativity and culture in Athens.
Invitation to Sponsors: https://athica.org/updates/sponsor-rbar/