Project Social Story is an exhibition resulting from a photo and film contest featuring Athens teens' images of their lives during this unprecedented time of social distancing, distance learning, and staying at home. The young artists' images tell a story about a unique experience we've all shared over the past few months with humor and sensitivity.  We applaud the creativity of all of the photographers and hope they will continue to take photographs and videos, share their work, and visit ATHICA to see the images. Every day is a new story, after all!  The images will be on view in the gallery and you can see all of their creative, thoughtful entries now, here on the ATHICA website. A no-contact exhibition will be showing on screens for viewing from outside the gallery June 24-July 8, 2020.
Our judges were board members Rebecca Brantley, Director of the Mason-Scharfenstein Museum of Art at Piedmont College and Camille Hayes, owner of TinyATH Gallery, graphic designer, and PR and social media specialist. They found it difficult to decide among the many entries and strong imagery. "We really enjoyed the project and looking at the different perspectives and approaches to image-making. All of the artists are to be applauded. We hope they will keep taking, making, and sharing their work."
 Press:  Flagpole Magazine, Art Notes by Jessica Smith, July 8, 2020
Fun
Addison Ollendick-Smith – Winner, $25 Award
Judges' Comments: Nice work! We like the unexpected compositions and angles. It captures a sense of fun in mundane circumstances. These images have nice, small details that give them character–like the watermelon slice.
Family
Mae Kline – Winner, $25 Award
Judges' Comments: We especially like the image with the stop sign since it speaks to the frustrations of being stuck at home with family. It's nice to see a less conventional diagonal composition and different facial expressions. It's a truthful depiction of feelings about family quarantining! Nice work!
Pets
John Arnold – Winner, $25 Award
Judges' Comments: We're impressed with your use of technology; you have a nice understanding of how to use a camera. Very nice use of lighting! Excellent use of contrast and texture. It's a beautiful portrait. Good work!
Friends
Mary Goggin – Winner, $25 Award
Judges' Comments: We appreciate the variety of media and the social commentary in this image. Nice use of repetition. Good work!
Feelings
Frances Thrasher – Winner, $25 Award
Judges' Comments: Nice use of stop-motion. You demonstrate strong technical skills. We are impressed with your use of non-human elements to express a feeling. The use of lighting evokes the passage of time and relative lack of change when you're stuck at home. Good work!
Feelings
Mai Miyashita – Honorable Mention, Featured Image Award
Judges' Comments: Nice conceptual photographs that utilize Instagram filters well. We think it captures the spirit of the project very well. Strong creative voice!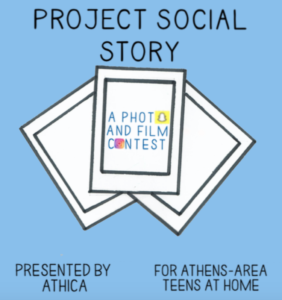 More about Project Social Story
Project Social Story has been created by ATHICA photography intern and local high school student Chloe Sears as a project to engage with other teens and gather and encourage their creative expressions of their pandemic experiences.  Sears explains that "My goal for Project Social Story is to get teenagers in Athens to use everyday apps like Snapchat and Instagram as a creative outlet instead of just social media. With the COVID-19 pandemic, this seemed like a great opportunity for people to express themselves while they're stuck in quarantine."