New Gods | Old Gods
March 25-April 28, 2019
Featuring works and performances by I Made "Bayak" Muliana
Curated by Peter Brosius and Alden DiCamillo
Exhibition and Events at ATHICA (See Complete List Below)
Opening Reception: Monday, March 25, 2019, 5:00-7:00 PM
Made Bayak musical performance, featuring the artist, Killick, and other local musicians: Wednesday, March 27, 2019, 7:00 PM
Made Bayak artist talk and performance art, "Radical Resilience within Visual Art-making (Art as Activism)": Sunday, March 31, 2019, 4:00-6:00 PM
Musical performance by Gamelan Chandra Natha, a Balinese gamelan ensemble from the UGA Hugh Hodgson School of Music: Tuesday, April 2, 2019, 7:00 PM
Curators' Talk by Peter Brosius and Alden DiCamillo: Monday, April 8, 2019, 5:30-7:00 PM
Athens Institute for Contemporary Art (ATHICA) is pleased to announce the exhibition and event series New Gods | Old Gods featuring visiting Balinese artist I Made "Bayak" Muliana (Made Bayak) during the weeks of March 25 through April 7, 2019. As a multi-talented artist, activist, and musician, the artist will take part in a community-wide series of events, performances, and talks, which offer the community many opportunities to interact with the artist and learn about his work and the cultural context in which it takes place.
Made Bayak's visual practice merges images and symbols from Balinese cosmology and current Balinese political and ecological movements to bring attention to parasitic real estate development and past actions of violence within Bali. The colorful and piercing narrative works that will be on exhibition use waste plastic and trash, ink, acrylic paint, stencils, and traditional Balinese painting techniques to tell the most difficult stories of Balinese history. Additional documentary photographs and videos of his work and contextual information about Bali will be exhibited alongside. Made Bayak will make several appearances at ATHICA, including a musical performance on March 27 and an artist talk and performance piece, "Radical Resilience within Visual Art-making (Art as Activism)" on March 31. All events are free and open to all.
Made Bayak's work is brought to ATHICA by the curators Dr. Peter Brosius and Alden DiCamillo. Dr. Brosius is a Distinguished Research Professor in the UGA Department of Anthropology; Alden DiCamillo is an interdisciplinary artist, graduate student with the UGA Lamar Dodd School of Art, and ATHICA intern. Together with their colleague, Dr. Sarah Hitchner, Assistant Research Scientist at UGA, they are conducting research on how Made Bayak's work weaves narratives of explicit and implicit violence into a visual activism that boldly uses innovative material experimentation combined with wildly energetic portrayals of Balinese cosmology. Anthropologists Brosius and Hitchner have conducted long-term research in Indonesia and Malaysia regarding threats to cultural landscapes and displacement of indigenous communities through land degradation and violent real estate policy.
Sponsors: the Athens Institute for Contemporary Art (ATHICA) with the support of The James E. and Betty J. Huffer Foundation and Creature Comforts Brewery, the Willson Center for Humanities and Arts, the UGA Department of Anthropology, the UGA Center for Integrative Conservation Research, Ideas for Creative Exploration (ICE) at UGA, the UGA Office of Sustainability, the UGA Lamar Dodd School of Art (LDSOA), the Lyndon House Arts Center, and the ACC Solid Waste Department.
About the Artist I Made "Bayak" Muliana (Made Bayak)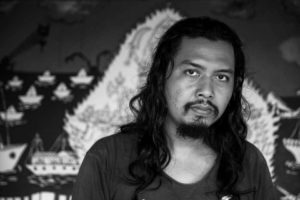 Made Bayak was born in 1980 in Tampaksiring, Gianyar Regency, Bali, Indonesia. He completed his studies at the Indonesian Institute of the Arts Denpasar in Denpasar, Bali, Indonesia in 2006. His work addresses the human devastation of the Indonesian genocide of 1965-66 and the environmental devastation of the Balinese island's once-pristine environment caused by tourism-driven development and the lack of local awareness of best ecological practices. His methods include activism and social organization, teaching workshops, painting, drawing, sculptural objects, installations, performance art, and music performed with his heavy metal rock band Geeksmile.
Plasticology is an ongoing project in which he uses waste plastic to make art objects, paintings, and performances, as well as teaching Plasticology workshops to children and communities. In 2014, he was buried up to his neck by an excavator/backhoe during his performance at the Padang Galak Beach Tolak Reklamasi Art Event held to protest the Balinese government's plan to develop the Benoa Bay to the benefit of outside commercial interests (Reklamasi Benoa). The populist movement Tolak Reklamasi calls for Bali to reject (tolak) this "reclamation" of the Benoa Bay. Nominated as a finalist in Singapore's prestigious 2013 Sovereign Art Prize,
Made Bayak continues to conduct his activist practice and to exhibit his works in Bali and, most recently, in Germany and Poland.
Press Release: ATHICA_PressRelease_NewGodsOldGods_March2019
Catalog: New Gods | Old Gods Catalog
Press: "Indonesian Artist Made Bayak Weaves Cosmology With Sociopolitical Issues." Art Notes, Jessica Smith, Flagpole Magazine, March 20, 2019.
Complete Schedule of Related Events
 Monday, March 25, 2019, 5:00–7:00 PM: Opening Reception for Exhibition at ATHICA
Wednesday, March 27, 2019:
3:00–5:00 PM: Roundtable: "Representations of Violence, Radical Storytelling, Art-based Activism, and Imaginative History-making," at the Miller Learning Center, UGA.
7:00 PM: Made Bayak musical performance featuring the artist, Killick, and other local musicians, at ATHICA
Sunday, March 31, 2019, 4:00–6:00 PM: Made Bayak Artist Talk and Performance Art "Radical Resilience within Visual Art-making (Art as Activism)" at ATHICA
Tuesday, April 2, 2019, 7:00 PM: Musical Performance by Gamelan Chandra Natha, a Balinese Gamelan Ensemble from the UGA Hugh Hodgson School of Music, at ATHICA
Wednesday, April 3, 2019
2:00–3:00 PM, Traditional Balinese Painting Workshop with Made Bayak at the Lamar Dodd School of Art
5:00–7:00 PM, Documentary Film "The Look of Silence" at the Lamar Dodd School of Art
Thursday, April 4, 5:30–7:30 PM, Youth Workshop, Art with Recycled Materials/Plasticology with Made Bayak, in conjunction with Plastic Bodies: River Tribute by Abigail West, at the Lyndon House Arts Center. To Register: https://www.accgov.com/8670/Art-with-Recycled-Materials
Saturday, April 6, 9:00 AM – 5:00 PM, Eco-Art, Lake Herrick
Monday, April 8, 5:30 – 7:00 PM, Curator's Talk: "Revealing Systems of Violence through Interdisciplinary Collaboration" by Peter Brosius, Sarah Hitchner, and Alden DiCamillo at ATHICA