Saturday, August 14th, 2010-Sunday, September 26th, 2010
Curator: Lizzie Zucker Saltz | Assistant Curator: Katherine Holmes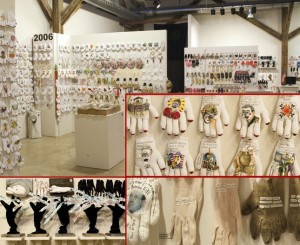 From left to right, top to bottom: Details from The Hand to Hand Project (2003-2010): 2003- 2005 – Cecelia Kane (Decatur, GA), 2006 – Ayla Ercin (Portland,OR), 2007 – Ruth Schowalter (Decatur, GA), 2008 – Rose M. Barron (Atlanta, GA), 2009 – Virginia Parker (Atlanta, GA), 2010 – Rana Alkeshali (Baghdad, Iraq)
Mission Accomplished is an exhibit of three artists' projects that focus on war's effects on society. The exhibit is timed to coincide with President Obama's promised date of withdrawal of all U.S. combat troops from Iraq and is titled to allude ironically to President Bush II's infamously premature announcement.
With thousands of casualties since the initial invasion of Iraq eight years ago, with a total of 170,000 American troops in Iraq at the war's peak, with hundreds of billions of dollars spent amid overwhelming controversy, the war in Iraq has affected people everywhere.
Featured Artist
Cecelia Kane's The Hand to Hand Project chronicles the events of the Iraq war since its inception in March 2003, when she began painting the day's headlines on stuffed white gloves, one for every day the war continued. She describes each glove as a "'rosary bead' in this on-going, meditation of war witnessing." Some express our collective horror at the violence and some depict positive outcomes, yet all reflect the role of journalism in mediating our reception of the historical events.
In January 2006 the artist decided to expand the project to include other artists—she invited each artist to take on one week of Iraq War news and depict each day's news—good or bad—on a glove or hand-related artwork. 195 artists—many well-known Atlanta artists–have contributed to the project. In its entirety, The Hand to Hand Project will be large enough to fill every wall of ATHICA seven rows deep.
The artists hail from all across America and nine countries including a U.S. soldier stationed in Baghdad, another in the Gulf of Hormuz and two refugee Iraqi girls. There will be approximately 2,000 artworks ranging in media from a few video and soundworks, to glass, photography, painted, printed, embroidered and sculptural hands. A definitive catalog of theHand to Hand Project Catalog is available from Blurb.com.
Jim Buonaccorsi—a native of Rhode Island and resident of Farmington, GA for over 20 years—is a sculpture professor at the UGA Lamar Dodd School of Art who has focused his entire career on meticulously crafted works relating to war. His colossal steel and cast iron sculpture, Don't Forget to Learn, Don't Learn to Forget, is his largest to date and will debut at ATHICA after more than four years in the making. It depicts a furnace filled with metal skulls, each branded with a three-digit number on their forehead symbolizing the cold statistics of warfare. Buonaccorsi's title alludes to the repetitive motion of history and man's inability to learn from his mistakes.
Blaine Whisenhunt, also a sculpture professor, hails from Springfield, MO where he teaches at Drury University. His audience-participatory work, Weapon of Mass Compassionis comprised of a paper shredder and a stack of over a 100 Xerox copies of images of civilian Iraqi's, some war victims, culled from online sources, which he invites viewers to shred throughout the exhibit's duration.  At rest, the work reminds the viewer of the consequences of war's dehumanization and the number of civilian lives lost during battle.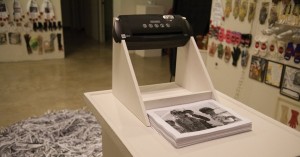 Participating Artists
Featured Artist: 
Cecelia Kane (Decatur, Georgia)
with the participation of 194 national & international artists.
For names and origins please see the Featured Project site:
Link to purchase your own definitive
from Blurb.com
Jim Buonaccorsi (Farmington, GA)
Blaine Whisenhunt (Springfield, MO)