Thursday, June 23rd, 2011-Sunday, July 24th, 2011
Resident Studio Exhibition
Curator: Lizzie Zucker Saltz | Assistant Curator: Ashley Westpheling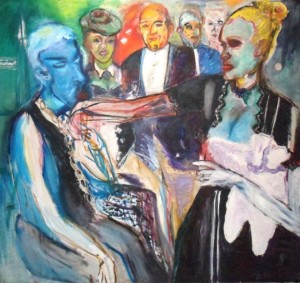 These thirty oil paintings by longtime painter Maxine Youngblood inaugurate ATHICA's first Resident Studio exhibit, which features the paintings of Maxine Youngblood, who started creating art in 1989 at the age of 52.
The works in this exhibit are colorful, passionate and deeply reminiscent of French and German Expressionism, bringing to mind European Modernist painters such as Henri de Toulouse-Lautrec, James Ensor, Max Beckman, Emil Nolde and Chaim Soutine as well as Abstract Expressionists such as Willem DeKooning and Franz Kline and more recent painters such as A.R. Penck. Several measure over six feet.
The vast majority of the works selected by curator Lizzie Zucker Saltz and Assistant Curator Ashley Westpheling are figurative, many referencing pop icons such as Elvis, Marilyn and Donald Trump. Others portray local artists, performers, models and writers, including performer Deonna Mann, painter Katie Walker and fellow resident studio photographer Peter Frey.
Participating Artist
(See page 5 of UGA Graduate School Magazine, Winter 2007)