Entropic / Cinema: Selections for Eye Noise
Video Art by Eddie Lohmeyer
November 1-December 25, 2021
ATHICA@Ciné Gallery
Entropic Cinema: Selections for Eye Noise is a series of experimental video works by Eddie Lohmeyer that explore the relationship among the entropy of digital media and the birth of novel and unexpected landscapes through modes of spiritual abstraction. From experiments in datamoshing, compression loss, frame rate manipulation, and palette swapping, the works in Entropic Cinema employ glitch as a process of error, fragmentation, and digital decay that playfully reveals the spectral terrains that reside beneath familiar interfaces. Yet paradoxically, the unpredictable outcomes of software and hardware failure and manipulation simultaneously generate unfamiliar and often transcendental forms that work outside our codified relationships with game systems, computers, and digital video. Disorder gives rise to sensory feedback or eye noise: abstract sequences that elicit optical arousal from irregular disturbances to our habitual perceptions. The exhibition's name "Entropic/Cinema" reinforces this paradox among loss and productivity. When entropy implies a fall into disarray, cinema suggests a kind of dynamism and generativity. Through the strange and frenetic nature of glitch, these works reveal how media often guide and shape our perception of self and world as they disrupt our everyday interfacing with technologies.
About the Artist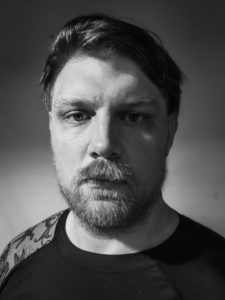 Eddie Lohmeyer is an Assistant Professor of Digital Media at the University of Central Florida. His research explores aesthetic and technical developments within histories of digital media, with an emphasis on video games and their relationship to the avant-garde. His book Unstable Aesthetics: Game Engines and the Strangeness of Modding is now available through Bloomsbury Press. Using deconstructive approaches such as glitch, physical modifications to hardware, and assemblage, his installations, sculpture, and video have been exhibited both nationally and internationally, most recently at 1308 Gallery at the University of Wisconsin, Ground Level Platform (Chicago, IL), the Yeltsin Center in Yekaterinburg, Russia and the 2021 Milan Machinima Festival.
Drawing from occult mysticism, Zen Buddhism, and art history, Lohmeyer's art explores the intersections among human perception, digital technologies, and modes of spiritual abstraction. Through experimental film, video installation, sculpture, and interactive methods, his media interventions aim to reconsider our habitual encounters with digital technologies through uncanny and often transcendent interfaces and screens. The playfully ironic encounters with these strange media forms unveil normal attitudes and perceptions toward digital technologies that have become a mundane co-extension of our bodies, while questioning knowledge frameworks in contemporary networked culture through which we perceive and sense the world.
Instagram: @eddie_lohmeyer_
https://vimeo.com/eddielohmeyer
https://www.eddielohmeyer.com/
Press Release:  https://mailchi.mp/b4c6c8fa9f97/press-release-video-art-by-eddie-lohmeyer-athicacin-gallery
Installation Views