Curator: Allie Goolrick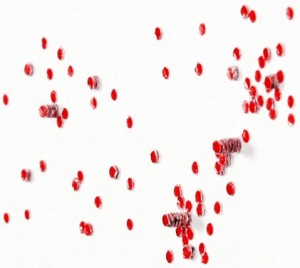 Almost daily we hear about another round of newspaper layoffs, another venerated publication on the brink of bankruptcy or another small town paper ceasing production altogether. In the digital age, while newspapers are incapable of competing with the web's low cost and efficiency, fears of the death of print run rampant–despite boomers' clinging nostalgia for their morning paper over cereal.

Obviously the internet has drastically changed the way that media outlets disseminate information, as well as the way we as a public access that information and how we respond to it. On the surface, the ability for people to engage actively in a dialogue with the media appears to be the pinnacle of what it to means a "public"—or belong to a democracy where citizens can make their voices heard, inspire action and change and hold leaders–and the media–accountable. So why is it that in a media-saturated world, many feel that we're privy to less information, less 'news?'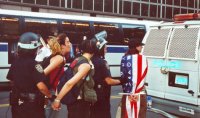 The artwork in Free Press in Free Fall asks how we–as citizens of the digital age– engage responsibly in a dialogue with our press.  How do we encourage correct, expansive, or less biased coverage? And when the media fails us, how do we bridge the gap? When faced with an economic crisis, major media outlets are faced with tough choices: Give the public what it needs, or what it wants?
These 13 North American artists employ a variety of media and approaches to address the current state of the American news media and its role in a rapidly changing society. Their artworks encourage viewers to ponder not only recent shifts in the news media industry, but also what role the public plays in news making and how much influence the public has on the news.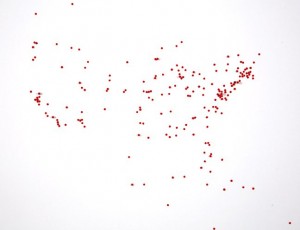 Featured artist Kathryn Refi's compelling work All Things Considered (2007-2008), explores the reach of global coverage by the titular NPR morning news show. Refi listened daily to the first hour of the news program, carefully noted the places covered and then transferred their geographical locations to blank white paper with small adhesive red dots. What emerges are 12 world maps that subtly show not only which areas are covered the most prominently, but which areas are left blank, left uncovered.
Participating Artists
Wayne Bellamy (Athens, GA), Gary Duehr (Somerville, MA),Melinda Eckley (Jackson, TN), John English (Athens, GA), M. Ho (University Park, MD), Franklynn Peterson (Madison, WI),Marie Porterfield (Athens, GA), Phil Ralston (Atlanta, GA),Kathryn Refi (Athens, GA), Hannah Lamar Simmons (Carrboro, NC), Ed Tant (Athens, GA), Jordan Tate (Calgary, Canada),Michael Thomas Vassallo (Philadelphia, PA)