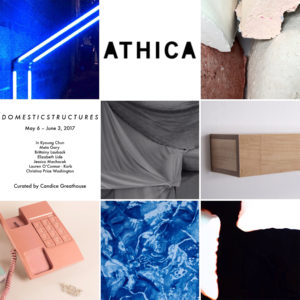 May 6 – June 10, 2017
Opening Reception: Saturday, May 6, 2017 from 6:00 – 9:00 pm
Artist and Curator Talk: Sunday, May 7, 2017 at 1:00 pm
Featuring works from In Kyoung Chun, Meta Gary, Brittainy Lauback, Elizabeth Lide, Jessica Machacek, Lauren O'Connor-Korb, and Christina Price Washington
Curated by Candice Greathouse
In 1971, Judy Chicago and Miriam Shapiro organized W O M A N H O U S E, a feminist art installation taking over and redefining an entire house. A provocative and sometimes controversial project, the artists transformed this domestic environment from floor to ceiling, inside and out, reinterpreting the concept of "making a home" and offering a critique of patriarchal oppression. Almost fifty years later, the home is still primarily considered a woman's domain, and contemporary depictions reinforcing this are abundant. From glossy interior spreads in women's magazines to the dedicated "lifestyle bloggers" of social media, these portrayals all similarly equate an idealized home with an idealized woman.
D O M E S T I C S T R U C T U R E S aims to expand the ideology of the home/house and relocate it as a site of action and potential. The Atlanta and Athens artists featured in this exhibition critically examine domestic and nostalgic objects through the mediums of installation, sculpture, and photography, and manifest representations and reshapings in regards to the construction of house and "home." Tactile works conceptualize the monumental and the miniscule, the functioning and the defunct, and offer a nuanced exploration of gendered understandings of domesticity and familial narratives, often relegated as "feminine" and "sentimental."
How do these objects and structures encapsulate (or limit) the lived experiences of women?
In the broader context of history, to what extent is the domestic structure of the home the foundation for larger social and political structuring?
The artists and works in D O M E S T I C S T R U C T U R E S offer a keen observation on contemporary approaches to home, and open up the potential for new narratives to emerge.
About the Curator
Candice Greathouse (b.1984) is an interdisciplinary artist with solo and collaborative practices, and a contemporary curator. Her curatorial and artistic practice work hand-in-hand, with an emphasis in critical dialogues, experimental methods, and unconventional projects. Greathouse completed her MFA in Photography in 2012 and an MA in Art History in 2014, both at Georgia State University. Her photography, video, and installation work has been exhibited throughout Georgia and nationally in Miami, FL and in Chicago, IL. She has curated numerous exhibitions in the Greater Atlanta area, notably at City of Atlanta's Gallery 72, MINT Gallery, Hambidge Arts Center, and University of Georgia's galleries.
Save
Save
Save
Save
Save
Save
Save
Save
Save