SURFACE: 2023 Juried Exhibition
October 14, 2023 – November 19, 2023
Jurors Clay Aldridge and Josiah Golson
of Stove Works, Chattanooga, Tennessee
Deadline for Submission: August 31, 2023, 11:59 PM EST
Prizes, including $500 in Cash and Future Show Award
Seeking contemporary art in all media that explores or references SURFACE, a term that can apply to the literal surface of an artwork, an environment, an individual, or reference the act of becoming evident, breaking up from the watery depths, applying concrete, or bring something to our attention. #SURFACE is a noun and a verb, both transitive and in-, and sometimes an adjective, such as when someone might be unkindly described as being "surface." Surface your hidden aspirations to share your work and enter the 2023 juried exhibition without delay! We are thrilled to announce that the work will be juried by Clay Aldridge and Josiah Golson of Stove Works in Chattanooga, Tennessee, an arts space that has a very similar mission to ATHICA and to which we look with admiration.

All artists are invited submit up to three contemporary works in any media exploring or referencing SURFACE by August 31, 2023.
All works must be submitted via this online entry form: https://forms.gle/qaeS4mWJZXpKEaKJ9
Work should have been created within the last two years and not have been shown previously in the Athens area.
Your entry fee goes to cover the exhibition expenses and to help sustain the gallery, which is a 100% community-supported and 100% volunteer organization, providing a space for artists in Athens for 20 years. In recognition of the economic challenges faced by many artists, you may elect to pay either the standard fee of $25 or a reduced fee ranging from $5-$20. You may also request a fee waiver. ATHICA welcomes any additional support you wish to offer at this time when so many in our community are unable to provide their usual support.
Prizes: Donald Keyes Founder Award ($300), Exhibition Committee Pick $100, Community Pick ($100), and Future Show Award.
ATHICA will refer all sales inquiries directly to the artist, with the request that artists donate 30% of the sale back to ATHICA to help sustain the gallery.
To enter:

About the Jurors
Josiah Golson is an artist, lawyer, and the Programs Director of Stove Works in Chattanooga, Tennessee. He is the founder of the 800 Collective, a diverse group of artists using art as a means of civic engagement and public discourse. Golson received his B.A. in Communication at the University of Tennessee at Chattanooga and his law degree from the University of Texas School of Law in Austin. Developing his artistic voice while studying law, Golson aspired to address civic needs through creative channels. Golson's work includes creative workshops, public art projects, and community development throughout the United States. Golson is the author and illustrator of The Souls of Free Folk (Polyphemus Press, 2018), a genre-blending story inspired by the legacy of Black American art and activism. Golson's current project, FESTIVAL, presents a narrative of the artist's use of popular music iconography as a means of exploring identity and community.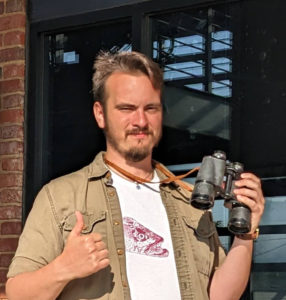 Clay Aldridge, Projects Manager of Stove Works in Chattanooga, Tennessee, is an artist and curator born and raised in Oak Ridge, TN. He received his BFA in Photography and Media Arts from the University of Tennessee at Chattanooga in 2019. He went on to work with the Songbirds Foundation as they designed and built their museum+venue which opened in 2021. In the same year Clay and his co-curator Jackson Case founded Dry Ice Gallery, an artist-run experimental space located in an old warehouse in Chattanooga. The gallery focuses on curating experiences that elevate and showcase local artists of all career levels. Clay has a fondness for birds.