September 23 – November 12, 2017
Opening Reception with Juror Harry H. DeLorme, Jr:
Saturday, September 23, 2017 from 6:00 – 9:00 pm
Guest Juror Harry H. DeLorme, Jr., New Media and Education Curator, Telfair Museums, Savannah, Georgia
The 2017 edition of ATHICA's annual juried exhibition opens on Saturday, September 23, 2017 and runs through November 12, 2017. Guest Juror Harry H. DeLorme, Jr., New Media and Education Curator, Telfair Museums, Savannah, Georgia selected 34 works by 36 artists from over 175 works in competition, stating, "As a juror I was impressed by the quality of submissions, the range of media represented from photography to fiber arts, and in particular the number of video and media works to choose from for this exhibition."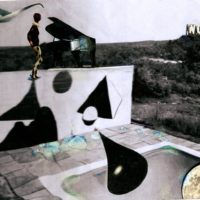 Surprising, thought-provoking, oblique, and intuitive, the selected works include video and interactive media, painting, photography, sculpture, a collection of Communist Manifestos, a portrait of the United States in junk food, and more.  DeLorme will be present at the opening reception on Saturday, September 23, 2017 from 6-9 to talk about the work, as will many of the artists.
Lucy Julia Hale, Women Still Having to Climb Old Walls for a Place to Practice, 9.5″ W x 6.7″ H, 2016
Featuring work by the artists Heather Bentz, Lauren Bradshaw, Cameron Bliss, Claire Carlton, Kristin Casaletto, Claire Clements, Robert Clements, Ally Christmas, Ellie Dent, Victoria Dugger, Marta Finkelstein, Lisa Freeman, Bill Georgia, Lucy Julia Hale, Morgan Jenks, Crystal Jin Kim, Michael Lachowski, Michael Lasater, Vivian Liddell, Anne Marchand, Jordan Marty, Laura Miller, Deepanjan Mukhopadhyay, David Noah, Alyson Ogasian and Claudia O'Steen, Lauren Peterson, Amanda Grae Platner, Jaime Raybin and R.D. King, Heath Schultz, Taylor Shaw, Diane Speight, Kaleena Stasiak, Katie Troisi, and Annebelle Wang.
About the Juror
Harry H. DeLorme, Jr. has been serving as the Senior Curator of Education at the Telfair Museums in Savannah, Georgia since 1989, and as the Curator of New Media exhibitions and programs and the PULSE Art and Technology Festival since 2007.  DeLorme maintains a prolific curatorial, arts publication, and art-making practice, with wide-ranging interests in digital media, technology, artificial intelligence, Georgia folk artists, and the environment.
More about the Juror: DeLorme CV 2016 and DeLorme Bio