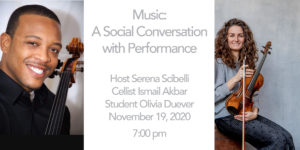 On November 19, 2020 at 7:00 pm, join ATHICA online for a special event in which music, conversation, and reflection explore our social connections.
Get your free ticket here:  https://www.eventbrite.com/e/a-social-conversation-with-performance-cellist-ismail-akbar-tickets-124499061043
Music and the arts cannot only be simple entertainment.
This event wants to connect music, communication, education, and cultures.
The event will begin with an informal dialogue between two professional musicians. While musicians usually silently perform their music, the curator wanted to create an event that shows how important it is to have a dialogue and share more than just music.
Serena and Ismail are both faculty at University level and they will talk about art, education, society, cultures, and social change in the south.
But this event is not only about conversation.
Cellist Ismail Akbar, will perform music for cello solo, and will conclude the event with a short masterclass where he will show how we learn and teach music.
Guest student Olivia Duever will perform an excerpt from Saint-Saëns, Cello Concerto.
Today more than ever, music has to be seen as a way to outreach, change, provide education, and create a better society.
About Ismail Akbar
Hailed as a cellist with "warmth and panache in solo flight"(Atlanta Journal Constitution) Ismail Akbar was born in Atlanta, received his Bachelors of Music degree in cello performance from Oberlin Conservatory of Music and Masters of Music from Mercer University. As a graduate of the prestigious Talent Development Program he performed with the Atlanta Symphony under the direction of Robert Spano. Mr. Akbar has performed as soloist and chamber musician throughout Panama, Bahamas, Russia and Italy. He has also performed as soloist with the North Georgia Chamber Symphony, Georgia Tech Symphony Orchestra and the Georgia College Orchestra. He has held substitute positions as principal and assistant principal cellist of Symphony Orchestra Augusta, Hilton Head Symphony, North Georgia Chamber Symphony and Greenville Symphony Orchestra. He has served as Faculty Cello Instructor at Laurel Ridge Music Festival in Helen, Ga for 12 years. Mr. Akbar is on the Board of Directors of Orvieto Musica's Italian Music Festival. As Cello Teaching Artist of the Atlanta Music Project, Akbar is an advocate for social change through musical excellence.
About Serena Scibelli
Violinist Serena Scibelli, a native of Italy, is faculty at the University of North Georgia and currently maintains a national and international active schedule as a soloist, chamber musician, orchestral musician, and educator. She has performed across United States, Europe, Russia, Latin American, and Arabian Peninsula in theatre such as La Scala, Wiener Musikverein, Royal Opera House Muscat, Teatro Real de Madrid, and she has had the honor to work with conductors and musicians such as Gianandrea Noseda, John Axelrod, Mikhail Tatarnikov, and Arthur Fagen.
Advocate for contemporary music, Scibelli has premiered over 50 from solo to orchestra works and is releasing her solo album in 2020 and another in Duo with the saxophone player Dr. Shawna Pennock in 2021.
From 2004 she works and has been a finalist for audition in orchestras such as South Carolina Symphony, Venice Symphony FL, Macon Symphony Orchestra, Augusta Symphony Orchestra, Carlo Felice Theatre of Genova, Pomeriggi Musicali of Milano, AsLiCo-Theatre of Como, Puccini Opera Festival, and Orchestra Theatre of Chieti. She has appeared as soloist with several orchestras, including the Venice Symphony in Florida, the Athens Symphony Orchestra in Georgia and the ARCO Chamber Orchestra in Athens, GA.
An enthusiast teacher, Dr. Scibelli is Faculty at the University of North Georgia for the violin and viola studio and Assistant Director of the UNG orchestra. Advocate for education and the importance of the arts, Serena Scibelli is serving as faculty for the HEART MUSIC and music curator for Athica – Athens Institute for Contemporary Art.
Dr. Scibelli graduated at age 18 from the Conservatory L. Cherubini of Florence, and after it, she obtained a Master's Degree at the Conservatory A. Steffani of Castelfranco Veneto. She continued post-graduate studies with a Second Master of Musical Arts in violin performance and a Doctorate at the Hugh Hodgson School of Music at the University of Georgia.