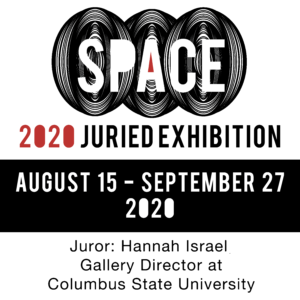 SPACE: 2020 Juried Exhibition
August 15, 2020 – September 27, 2020
Juror Hannah Israel, Professor of Art and the Gallery Director at Columbus State University
Socially-Distanced Opening Reception: August 15, 2020, 7:00 PM-9:00 PM
Juror and Artist Roundtable Discussion:
Thursday, September 10 @ 7:00. 
ATHICA's 2020 juried exhibition features contemporary art in all media that explores or references SPACE, which is found all around us, around our planet, and throughout art, nature, literature, science, society, and language as a concept and a construct with many different connotations. SPACE has become a particular focus in our society with the 2020 pandemic, in which we have become acutely aware of how we function in the world, in our homes, and with each other in terms of space. The 36 works in this competitive exhibition were selected by juror Hannah Israel, Professor of Art and the Gallery Director at Columbus State University. The 28 artists hail from all over the country, including New York, Oregon, Michigan, Wisconsin, South Carolina, Mississippi, and Georgia.
Featured Artists
Margaret Agner | Bogart, Georgia
Kate Burke | Athens, Georgia
Robert Clements | Athens, Georgia
Maggie Davis | Athens, Georgia
Sally W Eppstein | Athens, Georgia
Naomi J. Falk | Columbia, South Carolina
Lisa Freeman | Athens, Georgia
Kariann Fuqua | Oxford, Mississippi
Ronald Gonzalez | Johnson City, New York
Lucy Julia Hale | Cave Spring, Georgia
Richard Haley | Birmingham, Michigan | Exhibition Committee Award 
Jennifer Hartley | Athens, Georgia
Allie Jackson | Loganville, Georgia
Alison Kocher | Athens, Georgia
Anthoula Lelekidis | Astoria, New York
Bradley C. Lockridge | Athens, Georgia
Jason Machen | Bowman, Georgia
Reid McCallister | Athens, Georgia
j·m·mcdevitt | Athens, Georgia
Henry Peirce McEachern | Columbus, Georgia | Community Choice Award
David Noah | Winterville, Georgia | Future Show Award 
Will Pergl | Milwaukee, Wisconsin | Juror's Award
SM Piotrowski | Athens, Georgia
Christine Bush Roman | Johns Island, South Carolina
René D. Shoemaker | Athens, Georgia
Diane Speight | Winder, Georgia
Ronnie Ray Speight | Winder, Georgia
Karly Villaseñor | Portland, Oregon
View the Exhibition Online:  https://athica.org/updates/space-2020-juried-exhibition-for-viewing-online/
About the Juror
Hannah Israel lives and works at Columbus, GA, USA. She received her Masters of Fine Arts in Sculpture at the University of Illinois in Urbana-Champaign. Her work is across various interests including sculpture, installation, video, and mark making. Israel has exhibited her work at The Kentler International Drawing Space NY, White Space Gallery, Atlanta, High Museum of Art, Zuckerman Museum of Art, The Vargas Museum of Art in the Philippines, Museum of Contemporary Art in Honolulu, I-Space in Chicago, the Krannert Art Museum, Simmon Art Center at Bernau University, among others.
She has also curated numerous solo and group exhibition including Methodologies, at the Madelon Arts Gallery, East Stroudsburg University, PA, Beyond the Grid Into the Sublime for the Illges Gallery Columbus State University, Magnetic Landscape at the Columbus Museum, and You Me Us and Them at the W.C. Bradley Co. Museum, GA.  

Hannah Israel has received the Banff Art Center for Creative and Innovative Residency, Line and Chance Grant at AIR Residency Program, Daedalus Art Grant (NYC), the Creative and Performance Art Fellowship at the University of Illinois Champaign-Urbana, IL and the Artist Fellowship at Cornell University, NY among others. She is currently the 2019 AIR at Blue Heron Preserve.
Her works are in the collections of museums and private collectors. She is currently a Professor of Art and the Gallery Director at Columbus State University in Georgia.