January 13-February 11, 2024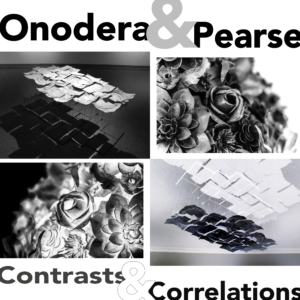 Opening Reception: Saturday, January 13, 6-8 PM
Artist's Talk at ATHICA: Sunday, January 14, 4:00 PM
Onodera Visiting Artist Lecture at Lamar Dodd School of Art: Tuesday, January 16, Time TBA
ATHICA is delighted to announce the Winter 2024 exhibition Onodera & Pearse: Contrasts and Correlations, featuring the work of two artists who share backgrounds in craft while embracing sculptural applications of metal, paper, gravity, and motion. Brought together in exhibition by curator Lauren Fancher, the two women were already known to each other through the craft community.  Fancher states that "I have been a fan of fellow Athenian Mary Pearse's work as an artist, curator, and educator, and followed closely the development of her magnum opus, Full Bloom, harboring a secret aspiration for this intricate and epic sculpture of lead blossoms to be presented at ATHICA.  After I encountered Masako Onodera and her delicate, mysterious, and grave work at the Haystack Mountain School of Crafts, I proposed that the three of us develop this exhibition, which positions Full Bloom beside pieces from Onodera's Vestiges and Phantoms series, among other works. Both of these masterful artists demonstrate an acute conceptual depth while using materials that align and echo with layers of meaning." Of particular import are their mutual use of non-traditional materials to both play homage to and critique the gilt and silver domestic accoutrements of women. Heavy is light and light is heavy in this thoughtful and subversive exhibition.
[Onodera statement quote]
[Pearse statement quote]
More About Masako Onodera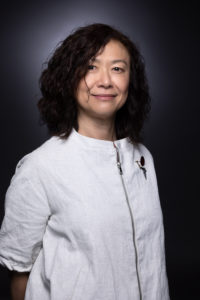 Masako Onodera utilizes craft techniques in her art and connects the audience emotionally to the materials and practices employed. Her creations suggest an experience of the body altered by the tactile and visual characteristics of the object.
Onodera's art is exhibited nationally and internationally in curated and juried exhibitions and is included in many private and public collections such as Toledo Museum of Art in OH, Mint Museum in NC, and Racine Art Museum in WI. She is the recipient of the Ohio Arts Council Individual Excellence Award and a Mid-career Educational Endowment Scholarship from the Society of North American Goldsmiths. Her work is published in journals and books, such as Metalsmith Magazine, the Art Jewelry Today, the Lark 500 series, and ACTIVA from Design Deffusion Edizioni, Milan, Italy. She graduated with an MFA in Metals from the University of Illinois at Urbana- Champaign and currently is a Professor at the University of Wisconsin-Stout in Menomonie, WI.
Website: www.masakoonodera.com
IG: @masakonod
More About Mary Pearse

Mary Hallam Pearse received her M.F.A. in Metal from SUNY New Paltz and a B.F.A. in Crafts with an emphasis in Jewelry and Metals from Kent State University. Her research centers around the symbolic and emotive resonance of jewelry and potent materials, and their intricate interplay with the fabric of culture.  Her work has been selected for competitive exhibitions in museums and galleries both nationally and internationally and included in publications such as Metalsmith, Ornament and American Craft. Curatorial projects include; Crafting History: Textiles, Metals and Ceramics at the University of Georgia, Parallels: Jonathan Wahl and Sondra Sherman, The Ring Shows: Then & Now and Putting the Band Back Together and Coming into View. She has been invited to give lectures and workshops at Penland School of Craft, Anderson Ranch, Kent State University, East Carolina University and Humboldt State to name a few. Currently she is Associate Professor of the jewelry and metalwork area and Associate Director of Space and Technology at The Lamar Dodd School of Art in Athens Georgia.
Website: ?
IG: @maryhallam
Onodera & Pearse: Contrasts and Correlations is sponsored in part by The James E. and Betty J. Huffer Foundation, The Georgia Council for the Arts, and The National Endowment for the Arts. Additional support for Onodera's travel provided by UGA's Lamar Dodd School of Art.
Catalog:
Press Release:
Installation Views