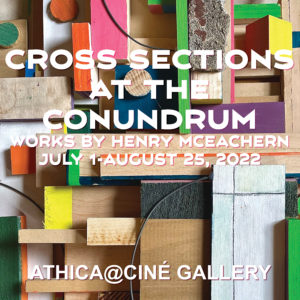 Cross Sections at the Conundrum
Works by Henry McEachern
July 1-August 25, 2022
ATHICA @ Ciné Gallery
234 W Hancock Ave.
Athens, GA 30601
For hours, see:  www.athenscine.com
New York artist Henry McEachern's work will be on view for July and August 2022, as a result of his winning ATHICA's "Future Show Award," in the 2020 juried exhibition.  His exhibition "Cross Sections at the Conundrum" features a cloud-like arrangement of dozens of small, colorful assemblages.  McEachern states: "They are the conglomerations of breadcrumbs I leave myself, arranged from rhizomatic constellations. These works stand as my small cosmogonies, memory pixels, and déjà vus."
About the Artist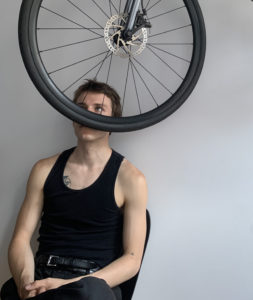 Henry McEachern (b. 1999, Columbus, GA) is a multi-disciplinary artist living and working in New York City. He attended Sarah Lawrence College in Bronxville, NY, where he received his B.A. with a concentration in studio art. McEachern has been exhibited in Athens, GA since 2020.
During the pandemic, McEachern traveled the country in a van before settling back into a studio practice in his Harlem apartment. Shuttered by New York City's numerous lockdowns, he explored mediums outside of painting: animation, photography, video-work, and eventually assemblage and installation. Earlier this year, McEachern exhibited his thesis show at Heimbolt Arts Center on Sarah Lawrence College's campus, titled "Back Wall of Your Brain". It was an aggregate of his collegiate experiences in art-making, and explored the mix media limits of his playful style. Recently graduated, he plans to continue pursuing his craft and life as an artist.
Instagram: @littlest.lamb
Cross Sections at the Conundrum is sponsored in part by The James E. and Betty J. Huffer Foundation, The Georgia Council for the Arts, and The National Endowment for the Arts.
Press Release: https://mailchi.mp/2b91b27b76a0/mceachern-rev