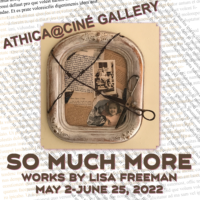 So Much More
Works by Lisa Freeman
May 2-June 25, 2022
ATHICA @ Ciné Gallery
234 W Hancock Ave.
Athens, GA 30601
For hours, see:  www.athenscine.com
The mixed media collages and assemblages that are presented by Athens artist Lisa Freeman in So Much More are intended to address the limitations frequently imposed on women in a patriarchal society, in large part taking the form of sexual objectification that begins in childhood. According to Freeman, "The expectations of women in our society has been a dichotomy: either that of a homemaker or, on the flipside, as a receptacle of men's sexual fantasies. A woman's worth can be incorrectly summed up by how she can best serve men. Throughout history women have pushed back against the demands of a restricted life and have fought to be acknowledged as more—indeed, as so much more."
About the Artist
Lisa Freeman is a collector, and Freeman's art brings to light the "mystery of the forgotten." By collecting objects, both the familiar and the unusual, and assembling them together, Freeman is asking us to look—to truly look—and, hopefully, to see.
Freeman was born in Canada, grew up in the Midwest, and landed in Georgia as a teenager. The constant shifting left her feeling a bit like an outsider cloaked in invisibility. Armed with the powerful resource of observation, Freeman watched and witnessed the human spectacle, taking visual notes and collecting—always collecting—along the way. Lisa Freeman works from her home studio in Athens, Georgia.
Artist's Instagram: @freeman_lisa
So Much More is sponsored in part by The James E. and Betty J. Huffer Foundation, The Georgia Council for the Arts, and The National Endowment for the Arts.
Press Release: Sent 5/2/22