Familiar
Photographs by Christy Bush
November 1 – December 25, 2022
ATHICA @ Ciné Gallery
234 W Hancock Ave.
Athens, GA 30601
For hours, see:  www.athenscine.com
Artist's Talk and Reception, November 3, 2022 @ 7 PM
With writer Chris Black, at the Ciné Lab. Hosted by the Willson Center for Humanities and Arts; part of UGA's 2022 Spotlight on the Arts festival.
ATHICA@Ciné presents an exhibition of photographs by Christy Bush, in conjunction with her new monograph Familiar, published by The Bitter Southerner and featuring "Thirty Years of Photographs: Rock 'n' Roll, Fashion and Coming of Age in the South."
A rebellious punk rock kid from Atlanta, Christy Bush moved to Athens, Georgia in the early '90s and fell in with a well-known group of creatives and musicians. Those were heady days in Athens, and Christy took her camera with her everywhere, snapping pictures, "so she wouldn't forget." Familiar is a visual feast… a look through Christy's lens at the last three decades from Athens to NYC to Los Angeles and around the world. Her rock and fashion photographs are stunning. The images of her muses, documenting their coming of age stories in the South, are jaw-dropping. (The Bitter Southerner)
In Familiar's forward, Bush's longtime friend, artist, and musician Michael Stipe writes about her work:
"There is a simple truth evident throughout. Many of these subjects are family, people that she has gathered together and created a life with. Her documentation of that life is shown
in both its rawness and in the more theatrical glamour of the staged and unstaged. It challenges us to look in different ways. It is a delight to be invited inside this life."
Bush will be at the Ciné Lab on November 3, 2022 at 7 pm to talk about her work with the writer, brand consultant, and podcaster Chris Black. Hosted by the Willson Center for Humanities and Arts and part of UGA's 2022 Spotlight on the Arts festival, the conversation will be followed by a celebration with music and light refreshments. Copies of Familiar will be available for sale and signing.
ATHICA@Ciné is pleased to present this exhibition as part of ACP / Atlanta Celebrates Photography 2022. This is Bush's first solo exhibition for ATHICA, for which she was selected by the ATHICA Exhibitions Committee to be featured in ATHICA's Solo Duo Trio series, which provides opportunities for individual artists to exhibit their work at ATHICA and its partner location, ATHICA@Ciné.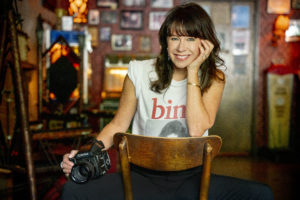 About the Artist
Christy Bush is a photographer currently living and working in Athens, Georgia and Asheville, NC.  Working in both editorial and fine art modes, Bush has an extensive portfolio of clients, including Beauté Pacifique, Columbia Records, Costume Magazine, Hable Construction, Interscope, Fat Magazine, J. Crew, Jaipur Living, Love Want, Nordstrom, Matador Records, Pandiscio Co, Paris Match, Puss Puss, Rika, Roxy, Scandanavian Traveler, SeiMei, Sony, and Strangelove NYC.
Bush has had solo exhibitions in Blackston Gallery, New York; Opal Gallery, Atlanta; and Loveless, Tokyo.  She is currently represented by Jackson Fine Art of Atlanta.
Instagram: @christybush_public
Website:www.christybush.com
ACP Festival Guide
Selected Press:  Bitter Southerner | Vogue | Coveteur | WWD: Women's Wear Daily | The Guardian
Familiar is sponsored in part by The James E. and Betty J. Huffer Foundation, The Georgia Council for the Arts, and The National Endowment for the Arts.
Press Release: https://mailchi.mp/680df84ae157/bush