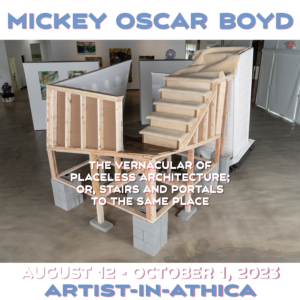 August 12-October 1, 2023
Artist-in-ATHICA: Mickey Oscar Boyd

Open Studio Hours: Saturday 8/19. Friday 8/25 and 9/8 from 10am-12pm. Friday 9/1 from 8am-10am.
Artist Talk and Open Studio:  Thursday, August 17th 6-8PM (Third Thursday Art Night)
Reception: Thursday, September 21, 6-8 PM (Third Thursday Art Night)
Gallery Hours 9/16-10/01/23: Wed 4-6 PM | Fri 4-6 PM | Sat 1-6:00 PM | Sun 1-6 PM
ATHICA is delighted to announce that the artist Mickey Oscar Boyd will be in residence during the weeks of August 12-October 1, 2023, during which time he will be developing an installation entitled "The Vernacular of Placeless Architecture; or, Stairs and Portals to the Same Place." Boyd's work investigates the substructure of the contemporary built environment through replicating the forms writ large around us. In surreal facsimile constructions, he uses the same materials as those in our residential structures: dimensional lumber, drywall, insulation, found doors, and windows, calling our attention to the suffocating sameness that pervades our market driven society.
The artist states that "With these materials, I make constructions that are reactive to the contemporary home as a constructed object, reflecting and distorting segments of the bland suburban monoculture, becoming more representative of the bizarre and arbitrary economic systems that allow for their existence. Like a dream, the relation to references are skewed, and the temporal moment ambiguous: simultaneously coalescing and being destroyed."
Boyd's process will be accessible to the public through open studio hours from 10am-12pm on Fridays 8/18, 8/25, 9/8 and 8am-10am on Friday 9/1. The completed installation will be on view from September 15-October 1 during regular gallery hours.
The purpose of the residency is to foster the development of artists and their artistic works and to enrich the programmatic offerings and community experience provided by ATHICA. For more information about the ATHICA artist-in residence program, to apply, and to see previous residents, see: the Artist-in-ATHICA Residency Program.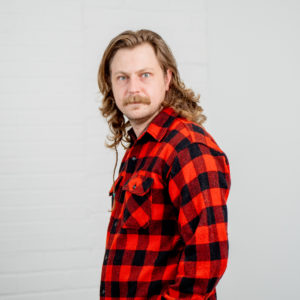 More About Micky Oscar Boyd
Mickey Oscar Boyd is a sculptor and printmaker based in Athens, Georgia. Originally from central Colorado, his practice is grounded in formative experiences working in his father's shop and appreciating the big sky of his family's home. He uses his history of working in the trades and construction as a sculptural language for interpreting the consequences of the developmental model of the built environment in the United States. He earned his MFA in Studio Art at the Lamar Dodd School of Art at the University of Georgia in 2023 and holds a BFA in Sculpture and Printmaking from Metropolitan State University of Denver, in Denver, Colorado.
Web: mickeyoboyd.wordpress.com
Instagram: @mickeyoscarboyd
CV: Mickey Boyd CV
---
Artists-in-ATHICA is sponsored in part by The James E. and Betty J. Huffer Foundation and the Georgia Council for the Arts through the appropriations of the Georgia General Assembly. Georgia Council for the Arts also receives support from its partner agency – the National Endowment for the Arts.
---
Press Release: https://mailchi.mp/athica/boyd