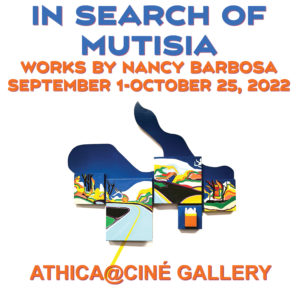 In Search of Mutisia
Works by Nancy Barbosa
September 1 – October 25, 2022
ATHICA @ Ciné Gallery
234 W Hancock Ave.
Athens, GA 30601
For hours, see:  www.athenscine.com
The multimedia artist Nancy Barbosa's colorful wall-based three-dimensional constructions will be on view for September and October 2022. A native of Villavicencio, Colombia and current resident of Flowery Branch, Georgia, Barbosa's work has been widely exhibited in both the United States and Colombia. In Search of Mutisia reflects her memories of a drive through the rolling landscape of Blue Ridge, Georgia. Her use of saturated, bright, and complementary colors allows exploration of an imaginary landscape using elements not literally of this scene, but breaking apart nature into fragments, and rotating and inserting recycled elements on organic supports. Barbosa links this series to her ongoing use of memory, abstraction, and found materials, which began in her crowded urban city in Colombia, and continued with a new-found focus on nature when she came to the United States. She states, "I was overwhelmed by the abundant vegetation and its sense of serenity and security. This language of color, natural patterns, and security spoke to me, as if in confidence, especially poignant when set against my earlier memories of vulnerability."
Barbosa is frequent contributor to ATHICA group exhibitions; this is her first solo exhibition for ATHICA, for which she was selected by the ATHICA Exhibitions Committee to be featured in ATHICA's Solo Duo Trio series, which provides opportunities for individual artists to exhibit their work at ATHICA and its satellite location, ATHICA@Ciné.
Artist's Statement
Mutisia is a genus of flowering plant in the tribe Mutisieae within the family Asteraceae (aster, daisy, composite, or sunflower family). Named after José Celestino Mutis, the 18th century Spanish priest, botanist, mathematician, and leading figure in the Spanish-American Enlightenment, sixty or more species of Mutisia can be found along the entire length of the Andes and in southern Brazil, Paraguay, Uruguay, and northern Argentina. —Wikipedia
The organic shape of the leaves and the landscape are my starting point; I analyze them and allow them to impress me by recreating visual moments that remained in my memory from a drive along the rolling terrain of roads in the mountainous area of Blue Ridge, Georgia. This becomes a two-dimensional and three-dimensional proposal, based on shape and color. Three-dimensional, when I begin to juxtapose, fragment, rotate, and insert recycled elements on an undulating support that allows me an approximation of the landscape in three-dimensions through a fragmented, dislocated, and imaginary perspective.
"In Search of Mutisia" explores the two-dimensional and three-dimensional realms. The use of saturated, bright, and complementary colors allows an exploration of an imaginary landscape using elements not literally of this scene, breaking apart nature into fragments, and rotating and inserting recycled elements on an organic support. What emerges is not part of this scene and therefore we are not used to seeing this part of nature that is constantly evolving. By transmitting to the viewer intimate and subtle details that we usually do not perceive from a moving object, the work offers a new way of interpreting nature and in this way echoes my past memories of the city of Bogotá, in this synthesis of memory and revelation.
About the Artist
Nancy Barbosa is a multimedia artist living and working in Flowery Branch, Georgia. She attended National University of Colombia in Bogotá, Colombia where she received her B.A. with specialization in Painting in 1998. In 2001 she received a scholarship from ONU Cátedra de Grabado, Escuela de Artes Plásticas de Costa Rica, Universidad de Costa Rica, San José. In 2015 she finished her studies in Digital Media Production Technology at Chattahoochee Technical College.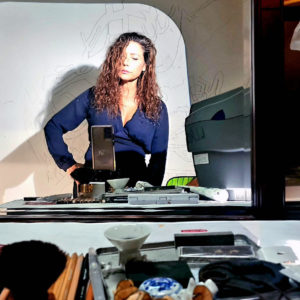 Barbosa has participated in over 30 group shows and four solo shows in Colombia and the United States. She has been selected twice in the mural-bike-rack program in Atlanta and her paintings have been acquired for the Fulton County Public arts and Gainesville Housing Authority's Community center, part of the Public Arts in Public/Affordable Housing initiative (PAPAH). Barbosa is frequent contributor to ATHICA group exhibitions; this is her first solo exhibition for ATHICA.
Having grown up in Colombia, Barbosa began making art using recycled items found on the city streets or in the scrapyards where she had picked through junk. Surrounded by the city's endless concrete, she sought to express her feelings of vulnerability and claustrophobia from the box-like aggressive city filled with noise, pollution, and the possibility of sudden danger.
Coming to America in 2005, Barbosa was overwhelmed by the abundant vegetation and its sense of serenity and security; the fall colors and foliage seemed to fill something inside she had long felt was missing. This language of color, natural patterns and security spoke to her, as if in confidence, especially poignant when set against the earlier memory of vulnerability.
Instagram: @nancybarbosah
CV: Download PDF
In Search of Mutisia is sponsored in part by The James E. and Betty J. Huffer Foundation, The Georgia Council for the Arts, and The National Endowment for the Arts.
Press Release: https://mailchi.mp/3fe50ff5daf6/barbosa