In 2021-22, ATHICA is celebrating 20 years of supporting contemporary arts and artists in Athens. This special birthday, miraculous among small non-profit arts spaces, is all due to the community of artists and art lovers that has kept the organization going for two decades. We began a fund-raising campaign in the summer of 2021 to help ATHICA buy the building.

With the help of the ATHICA community, we more than reached our goal of raising $10,000 by December 31, 2021. Some contributions came in through the GoFundMe Buy the Building campaign, some came in through our main charity page, and some came in direct for a total of $11,045, all of which has been matched by The James E. and Betty J. Huffer Foundation for a final total of $22,090. In addition, we received a matching grant from the Georgia Council for the Arts for $4090. These funds have allowed us to cover the down payment, closing costs and related expenses, and insurance and start-up costs. The best thing of all is that our monthly payment will be the same amount for years to come.
We are delighted to share that with your support, ATHICA has officially become an owner of the beautiful space at the Leathers Building that has been its home since 2018. Through a generous financing arrangement made possible by owner Karen Benson, ATHICA has become much more sustainable, able to build equity and able to avoid rent increases or possible displacement, crucial in the current real estate market in Athens. Thank you to Karen Benson and much appreciation to attorney Daniel Haygood for his assistance.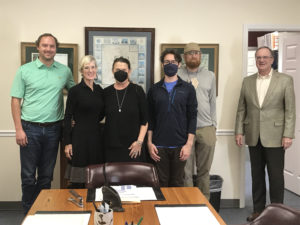 More About ATHICA
ATHICA is an all volunteer organization and those who have assisted over the years number in the thousands. Many have participated in multiple roles: as artists, curators, board members, performers, volunteers, interns, and more. Athens can be very proud of this community-supported art space that somehow not only survives but thrives. Since 2018, ATHICA has been able to increase stipends for artists, curators, and others who contribute professional skills to the organization. In 2021, helping to support creative workers is more important than ever, as the pandemic has disproportionately affected artists whose income is produced in the creative/gig economy and service industries.
We are also especially proud that during the pandemic we have been able to continue the same diverse, local/international, and multi-disciplinary programming that has been ATHICA's mission since its founding in 2001 by Donald Keyes, Lizzie Zucker-Saltz, and the Five-Arts team that hosted ATHICA's first location in the Tracy Street Warehouses. In 2018, ATHICA moved to the Leathers Building at 675 Pulaski St. With the generous support of The James E. and Betty J. Huffer Foundation, we installed state-of-the-art lighting and acoustic-baffling infrastructure in the new location. In November 2021, the loft at the Leathers Building will become our permanent home and a platform for building sustainability for the future.
ATHICA=Artists / 2021 and Beyond!