Friday, October 27,  2023. Doors open at 8:00 PM
Donations to the musicians appreciated
This month's edition of Sonic Space features two Athens abstract and ambient electronic musicians, lhlyatt (aka J Anderssen) and Ohmu (aka Winston Parker.) Rescheduled from their original date in July when the lights went out in Georgia, lhlyatt will be performing in support of their new EP release, "Sun In Your Head," which was out on all streaming platforms as well as handmade cassette and VHS tapes on July 21. It features violin samples from Annie Leeth, alongside synth and guitar samples twisted together into abstract compositions.
A
bout lhlyatt
J Anderssen is an experimental sound and visual artist from Athens, GA who performs under the project name Ihlyatt. His visual work ranges from 16mm film and analog video installations to painting, photography and other mixed-media pieces. He describes the music and sound art aspect of his work as "abstract electronic," using a mixture of samples, synth and guitar heavily manipulated by various effects and rearranged to create a textural sonic space that envelops the listener.
LINKS:
About Ohmu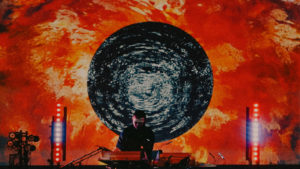 Ohmu is the ambient project of Athens, GA based graphic designer Winston Parker. Parker has always gravitated towards improvisation, drawn to a potentially transcendent state of expression. His performances and compositions are simultaneously meditative and chaotic, invoking apocalyptic feelings at times but not without an element of hope. Ohmu plays with minimal/maximalism both sonically and visually.
Parker uses analog and modular synthesis as well as a combination of other instruments such as saxophone and bass to sculpt his sound. The Moog synthesizer is a primary element in his work. It's very easy to create with and to shape via the controls across the front panel. Parker also frequently employs his modular system adding an icy, mechanical element. Though sequencer-driven, the modular can interject chaos and cacophony at any time.
There is a direct connection between these instruments and his lights and visuals. Individual instruments as well as their parameters are mapped to specific events and triggers visually. Very little is scripted; everything is happening in real time at Parker's fingertips – sound, lights, and visuals creating a very live and breathing organism.
LINKS: